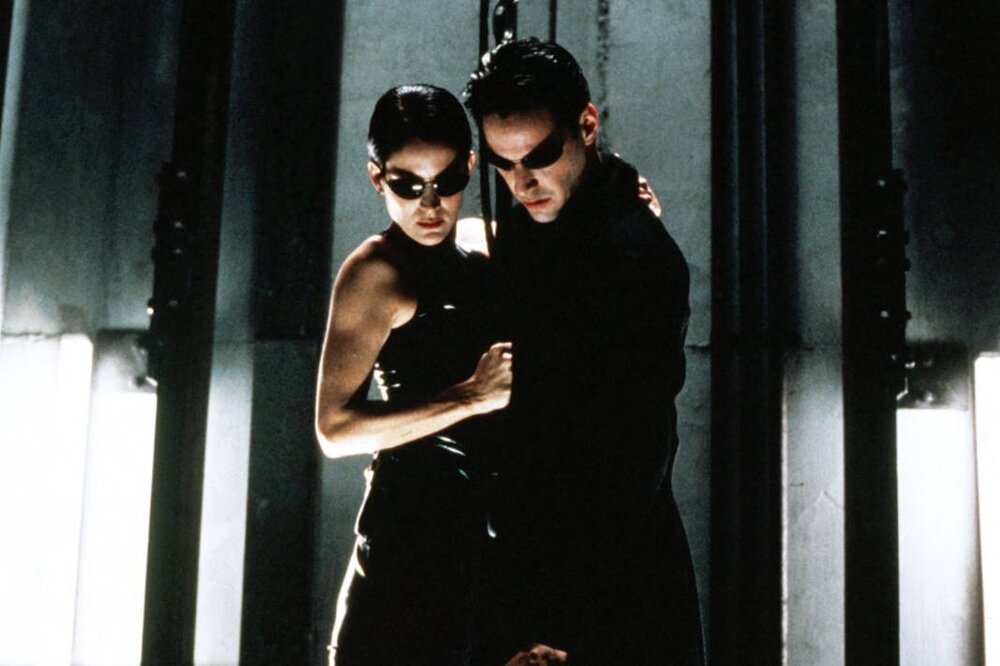 The Matrix 4 is currently shooting in San Francisco, and the highly anticipated sequel has gotten a lot of attention from fans and onlookers who have been able to spy the actors and crew in the area lately.
Last week we reported some videos shot by fans from the set, and today we've got some cool new footage to share with you featuring Keanu Reeves and Carrie-Anne Moss on the set of the film riding a motorcycle together.
Before you watch that footage, though, here's a video showing the stunt doubles for the film's stars, Reeves and Moss, hooked up to bungees, and jumping off a building, then getting quickly pulled back up through the air. It looks pretty cool. Check it out below:
Here's the actual footage of the actors:
Keanu Reeves and Carrie-Anne motorclice action in the new matrix 4@abc7newsbayarea @MoviesMatrix @keanuplanet @KeanuReevess_ pic.twitter.com/1kVLevmJdM

— marcos vedovetto (@vedoveto37) February 16, 2020
Thanks! jardav1980
Keanu Reeves #matrix4 #sf #KeanuReeveshttps://t.co/5L3ABqd1w6

サンフランシスコで撮影中の「#マトリックス4」
撮影用にホールドされたバイクに乗るキアヌ・リーブス(ネオ)とキャリー・アン・モス(トリニティー)
沿道の野次馬に挨拶するキアヌさん。#キアヌ・リーブス pic.twitter.com/ZkRTjcA7R8

— Ayako Ueda (@okka_nyan) February 16, 2020
The original film's director, Lana Wachowski, is directing the sequel, and Jada Pinkett Smith is returning to star alongside Reeves and Moss. The film also stars Yahya Abdul-Mateen II (Aquaman, Watchmen), Neil Patrick Harris (How I Met Your Mother), Jonathan Groff (Mindhunter), and Jessica Henwick (Game of Thrones). Priyanka Chopra is also rumored to be coming aboard the film as well.
We don't have details on the story for the film yet, but all fans of the original films are pretty dang stoked to see what they do with the return of the franchise. The Matrix 4 is set to hit theaters on May 21, 2021. Are you excited?